Historien om Brødrenes Original
Vi hedder Magnus og Theis Thesbjerg Jensen. To unge, glade vestjyske brødre. Det er os der står bag Brødrenes.
Idéen til Brødrenes opstod under den anden store coronanedlukning. Vi savnede en nyfortolkning af dansk grillmad – og derfor tog vi sagen i egen hånd. Idéen ledte til måneders hårdt arbejde, lange aftener og et opkøb af en foodtruck.
I juni 2021 kunne vi for første gang trille afsted i vores helt egen foodtruck, og servere klassiske danske grillretter, som folk allerede kender – i en fornyet og forbedret version.
En nyfortolkning af dansk grillmad
Alle kender frikadellesandwichen, bøfsandwichen og flæskestegssandwichen. Det er dem vi har tilladt os at nyfortolke. Vi har taget de bedste elementer fra hver af disse kendte klassikere; Frikadeller som vores bedsteforældre lavede dem og den brune sovs der hører til. En velstegt ribbensteg med sprød svær, med magert og saftigt kød. Desuden tilbyder vi også vegetarisk grillmad, så der er noget for enhver smag.
Hos Brødrenes tilføjer vi vores sprøde hjemmesylt, lækre hjemmerørte mayonnaiser – og selvfølgelig sprøde, grove fritter ved siden af. Alt hvad vi laver, laves i samarbejde med lokale leverandører, samt med fokus og respekt omkring gode danske råvarer. Derfor anvender vi også udelukkende fritgående dansk kød.
Uanset om du besøger vores Foodtruck eller vores restaurant i Borggade, står vores medarbejdere klar med store smil og god mad, lavet af fantastiske råvarer. Der er altid plads til en snak hen over disken – vi mener nemlig ikke man kan skynde på hygge!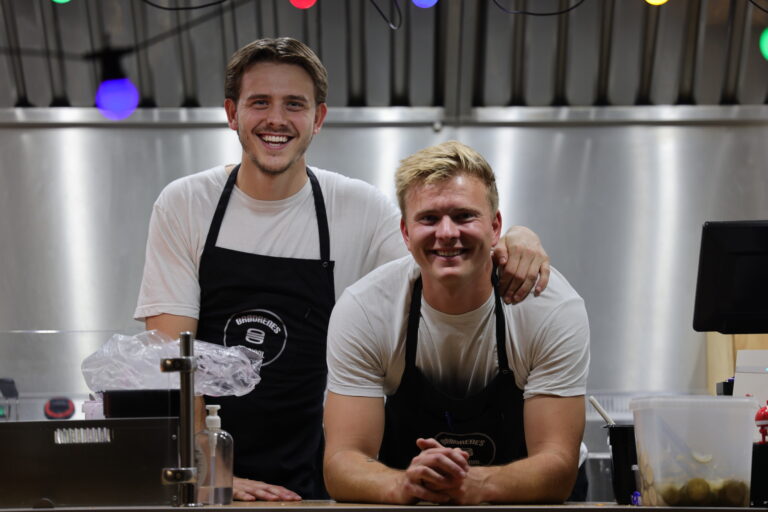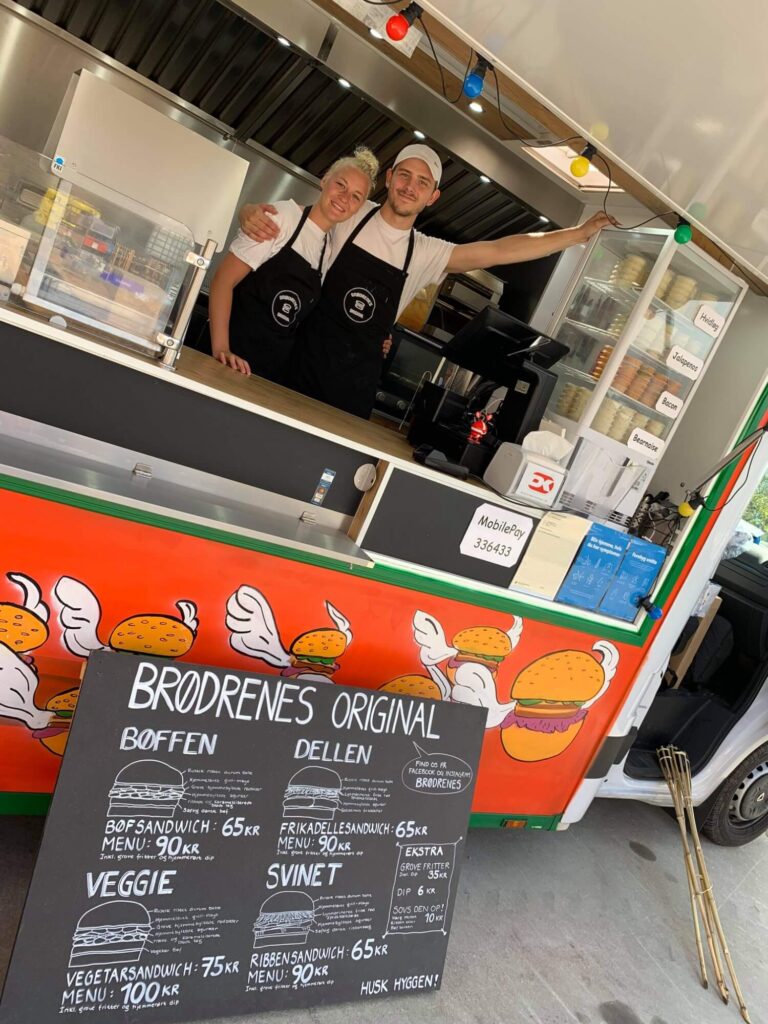 Hos Brødrenes tillader vi os at have store ambitioner og drømme endnu større. Vores fornemmeste opgave er at servere kvalitetsmad for dig, mens vi formidler lige præcis den særlige hygge som Brødrenes står for.
Du er mere end velkommen til at følge os på Facebook og Instagram – her opdaterer vi nemlig om de nyeste idéer og tilbud du finder på vores lokationer. Desuden tilbyder vi også muligheden for at leje vores madvogn til fester, hvis I ønsker det.
Du er selvfølgelig også velkommen til at sende os en mail eller ringe, hvis du har spørgsmål. Eller endnu bedre; stik hovedet forbi en af vores lokationer, til en hyggelig snak og dansk kvalitets mad.
Vi glæder os til at se dig!